Background
Synergy is a close-harmony male voice choir – the only such choir in South Wales. We differ from a traditional male voice choir in our approach, our choice of songs, our sound. We sing "a-capella" (unaccompanied), producing truly beautiful music.
Our ability to charm & delight an audience with our singing is due to a number of factors: we are led by our talented gold-medallist Musical Director: Martin Flory who selects our music and teaches it with conviction, aiming at perfect harmony; we sing a range of songs from ballads, pop, swing to laugh-out-loud; we love what we do – we're infectious!
Join Us
Where fine voice and much jollification can be participated in. If you're a complete beginner and want to explore the potential that your voice may have or if you are a practiced/experienced Bass, Baritone, Lead or Tenor that would like to get involved, we would love you to come along and join in.
Synergy members come from all walks of life, ranging from young pups in their 30s to the…hmm…less young gentlemen growing old disgracefully all making a wonderful sound.
Synergy rehearsals take place every Thursday evening from 7.30pm – 10 pm at The School Room, Castle Street, Abergavenny, NP7 5EE (adjacent to the rear car park of the Angel Hotel).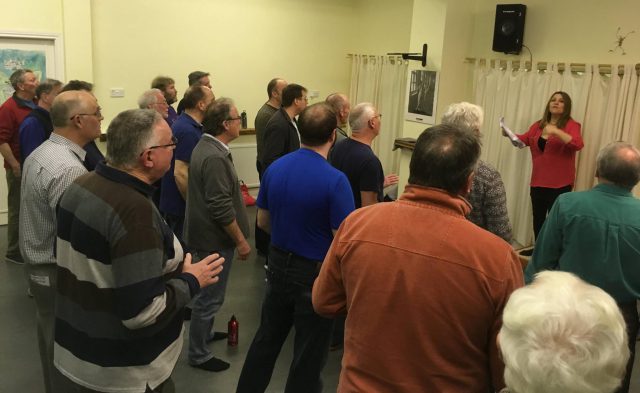 Chairman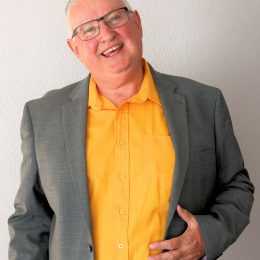 Steve Fitzgerald
Our Chairman Steve Fitzgerald joined the chorus in March 2016 after completing a Synergy run learn to sing course and soon caught the 4-part harmony, singing bug!
He enjoys performing in the Lead section and is often quoted as saying "I've always wanted to sing in a choir but I never dreamt it would be one as good as Synergy."
He always looks forward to welcoming new members and focusing on the next Synergy challenge!
Musical Director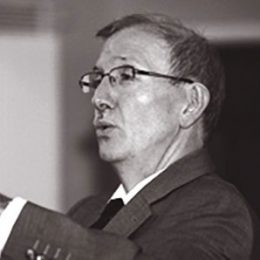 Martin Flory
Our Musical Director, Martin Flory, moved to Wales in 1980, having discovered barbershop music, and other unaccompanied singing styles a couple of years previously.
Having led the Newport-based Men of Gwent and subsequently the Wye Valley Chorus, he joined forces in 2005 with 15 other like-minded singers to form Synergy. The group's ethos was to sing and perform unaccompanied music to a high standard and in an entertaining fashion. These are an enduring part of Synergy's principles.
In the rare leisure moments when he is not involved in Synergy, Martin aspires to becoming a half-decent golfer.